Testimony
Once naked you fell like everything has failed you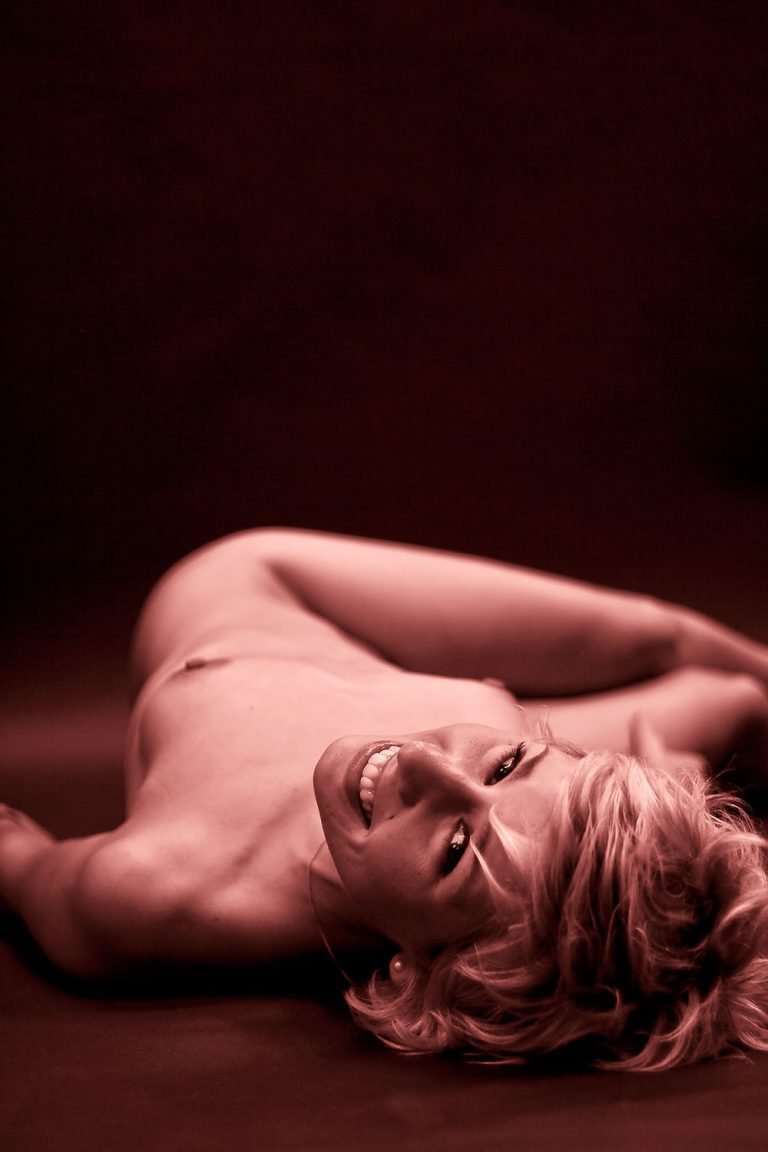 LEARN MORE ABOUT THE PROJECT
My adventure started with a trivial conversation. I was chitchatting with a friend who already sat for Idan. He asked me:
– Would you fancy posing nude for a photographer?
– Well, you're taking me a little off my guard! To be honest, I have never thought of it! But… yes… why not… I am not refusing… for good… well, it is worth looking into it!
A few days later Idan and I were emailing each other about that puzzling and incredible scheme of his which aroused a lot of positive curiosity… Shortly after, I came to a decision and arranged the time for a shooting! Once it is settled, lots of questions continuously arise… What the hell! You? Pose nude? Everyday I was about to cancel… And on it went, until the shooting day! At Beginning of July, 2009, more precisely the second. A scorching heat wave over Paris… My appointment was set on a Thursday evening after my working day in the province: stifling hot! I' m sweating! My makeup is dripping. Traffic jams make my drive to Paris hellish. I am as tense as ever! Indeed you couldn't feel cooler or more at ease after a sweet working day!… I managed to take a friend along with me to keep my spirits high. You may have a sturdy character, once you're naked, you feel like everything has failed you. Once in the studio my head started spinning! Could I still draw back? Not really! Anyway I didn't dare! Well, let's go! In this adventure, I first aimed at overcoming myself, at being able to accept myself as I was. I wouldn't back away now! Yet… Idan quickly puts us at ease as well as he wins our trust. You quickly make friends with him: thanks to his kindness and his clear and numerous explanations about his scheme. At the time, the site hadn't been created yet. Then, he shows us some of the pictures he has already made and the first designs of the website. He very simply succeeds in trivializing that moment so dreadful for us amateur models! He also clearly answers our questions about the future use of those pictures; a contract is signed between the model and the photographer: only one picture is kept, all the other ones made during the sitting are destroyed. My mind at rest then, I feel peaceful enough to get to the second stage of that appointment. It is obviously more complicated. You end up in your birthday suit on the large black paper… Well, quite frankly, before you overcome your prejudice, you do feel ill at ease! You do feel uncomfortable! It took me ten minutes to relax… as Idan had told me! After those first most unpleasant minutes, you quickly play into the photographer's hands. You come to forget the "serious" aspect of the situation. There's a lot of laughter during the sitting. It's not that easy to play the model when you have never posed nude! For my part, I made Idan's work more complicated as I found out that I was hypersensitive to the flashlight of the studio! But he wasn't disheartened by the problem; he changed straight away his operating mode of the light and kept helping me to have faith in me. The shooting doesn't actually last long! So much stress for such a short time! When you leave you're simply impatient and eager to discover "your" photo! I was astonished at the result after I had made the sitting so difficult for him: that photographer is a genius! I do not regret a single minute of the experience! Thank you Idan! It's very simply incredible!